The decorator (1/2) – Berlin
From 1928 to 1933, Michael Gottlieb worked as a decorator for theatre and cinema. In 1928, at the age of 20, he directed, in particular, under the signature of Caspar Neher, the sets of the world creation of The Threepenny Opera at the Theater am Schiffbauerdamm in Berlin. His work with Brecht will continue until 1933.
Opéra de Quat'sous – Dreigorschenoper (1)
Représentation : 
Berlin (Allemagne) : Theater am Schiffbauerdamm – 31-08-1928
Contributeurs : 
Regie Erich Engel ; Übersetzung Elisabeth Hauptmann ; Bearbeitung Brecht ; Musik Kurt Weill ; Bühnenbild Caspar Neher ; Kurt Gerron, Hans Herrmann-Schaufuß, Rosa Valetti… [et al.] ; Kapelle Lewis Ruth Band ; musikalische Leitung Theo Makeben
Première représentation :
Theater am Schiffbauerdamm, Allemagne (Theater am Schiffbauerdamm) – 31-08-1928
Distribution :
Interprété aussi par Charlotte Ander, Harald Paulsen, Kate Kühl, Cäcilie Lvovski, Ernst Rotmund, Karl Hannemann, Manfred Fürst, Josef Bunzel, Werner Maschmeyer, Albert Venohr, Heinrich Gottlieb(2), Ernst Busch, Erich Harden…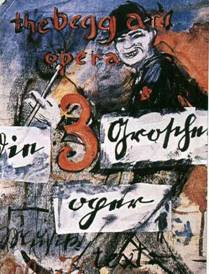 Affiche de la première représentation
de l'Opéra de Quat'sous
Berlin Theater am Schiffbauerdamm
31 août 1928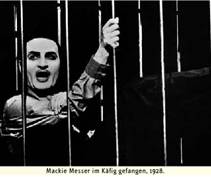 Mackie MESSER enfermé dans la cage – 1928
Opéra de Quat'sous – Theater am Schiffbauerdamm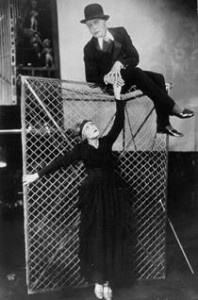 Zander &Labisch
Roma Bahn als Polly und Harald Paulsen als Macheath in: « Dreigroschenoper », Berlin, Theater am Schiffbauerdamm, 1928
© Stiftung Archiv der Akademie der Künste
1 Bibliothèque Nationale de France :
http://data.bnf.fr/44279652/die_dreigroschenoper_spectacle_1928/
2 Under the name of Heinrich Gottlieb Aram will also have a career as an actor in Berlin. It was during a rehearsal that Brecht overwhelmed by one of the actors, asked Gottlieb, constantly present during the rehearsals for the execution of the scenery to replace it on the fly: Can you play the role? and Gottlieb replied: of course!