Essay on the painter Michael Aram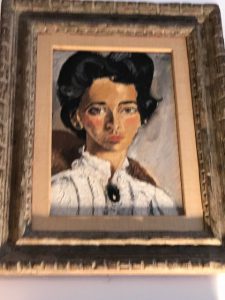 In the 50's, at an NYC party, I was struck by two of the host's paintings:  a grey-blue Rooftops of Paris;  and a multi-colored still life. I asked the host for the painter's name – Michael Aram.  It turned out that my date, Eddie (a painter), had known Aram during Eddie's time in Paris on the G.I. bill (studying with Fernand Leger).  Now I also had an address.
My boss at the time was going to Paris with her husband.  I asked them to visit Michael Aram's studio and offer $50 for a drawing for me.There, they fell in love with Michael's work and bought several thousand dollars worth of paintings.  Instead of sending me a drawing, Michael sent me a small oil of his signature Paris rooftops – the first painting I ever owned.
I travelled often in those days, and on my next trip to Paris, I looked up Michael Aram in his Saint Germain studio where he lived with his wife Paula Padani, a modern-dance teacher, and their small daughter Gaby.  We all became very close friends. I stayed in Hôtel des Saints Peres around the corner and we saw each other daily whenever I was in Paris, which was often.  Over many  years, I collected Aram paintings.
Michael, in his 20's, in Berlin, was a talented painter, working as a set designer for Bertolt Brecht's theater, for the creation of "The Three Penny Opera." One day, in the late 1930's, walking to his studio, he had a sudden premonition, turned in his tracks, went to the railroad station and boarded the next train out.  It was going to Italy. He learned that the Gestapo had come to his studio two hours later.
Landing in Rome, he registered as a foreigner.  With nothing but the clothes on his back and a little money in his pocket, he found a cheap room and started going to the museums.  After a week, he received a summons to report to the carabinieri. Italy was a Fascist country. Fearing the worst, Michael went to the Sistine Chapel, lay down on the floor (you could do that then) and took in Michelangelo's masterpiece, soaking in the glory before his inevitable arrest.
Instead, at the police station, they said, Buon compleanno!  From his identity card, they knew his birthdate. They also rightly assumed that he was Jewish. Then the carabinieri took up a collection and gave him enough money for his voyage to Palestine.
Off he went –  to safety and a new painting career in Tel Aviv.
There, a few months later, a girlfriend urged him to go to the dance recital of a newly-arrived refugee, Paula Padani, because he would fall in love: meaning, with her performance.  Aram went to the recital, then went backstage, then went home with Paula – and they were together for 60 years until death did them part.   Sudden miracles were Michael's destiny.
The Paris rooftops are mainly grey and blue – a blue that is not lapis nor bleu pale,but a marvelous in-between.  The view is from his attic studio and although the scene does not vary from one painting to another, the perspective and the focus always differ.  I own three rooftop paintings: a rare one with deeper colors could be a stage backdrop for "La Boheme."
The City of Paris, the French State Département des Beaux-Arts, and private collectors bought Michael's work. In addition to his still lifes and Paris roofs, he made his living in the age-old tradition of portraiture. He painted writers, artists, political figures, and theater and film personalities including Ingmar Berman, Jean Anouilh, and Lucien Freud.  I have one of his portraits of me and a drawing of my husband, as well as several paintings and drawings of Paula, often with her guitar. And I own a splendid artist's self-portrait which captures Michael's high craft and intensity.  I treasure them all, as well as his lively still life of a Dutch breakfast table, and others of chairs, stoves and tea-pots, with his marvelous bleu and an occasional piercing gold.